Tourism EXPO Japan 2022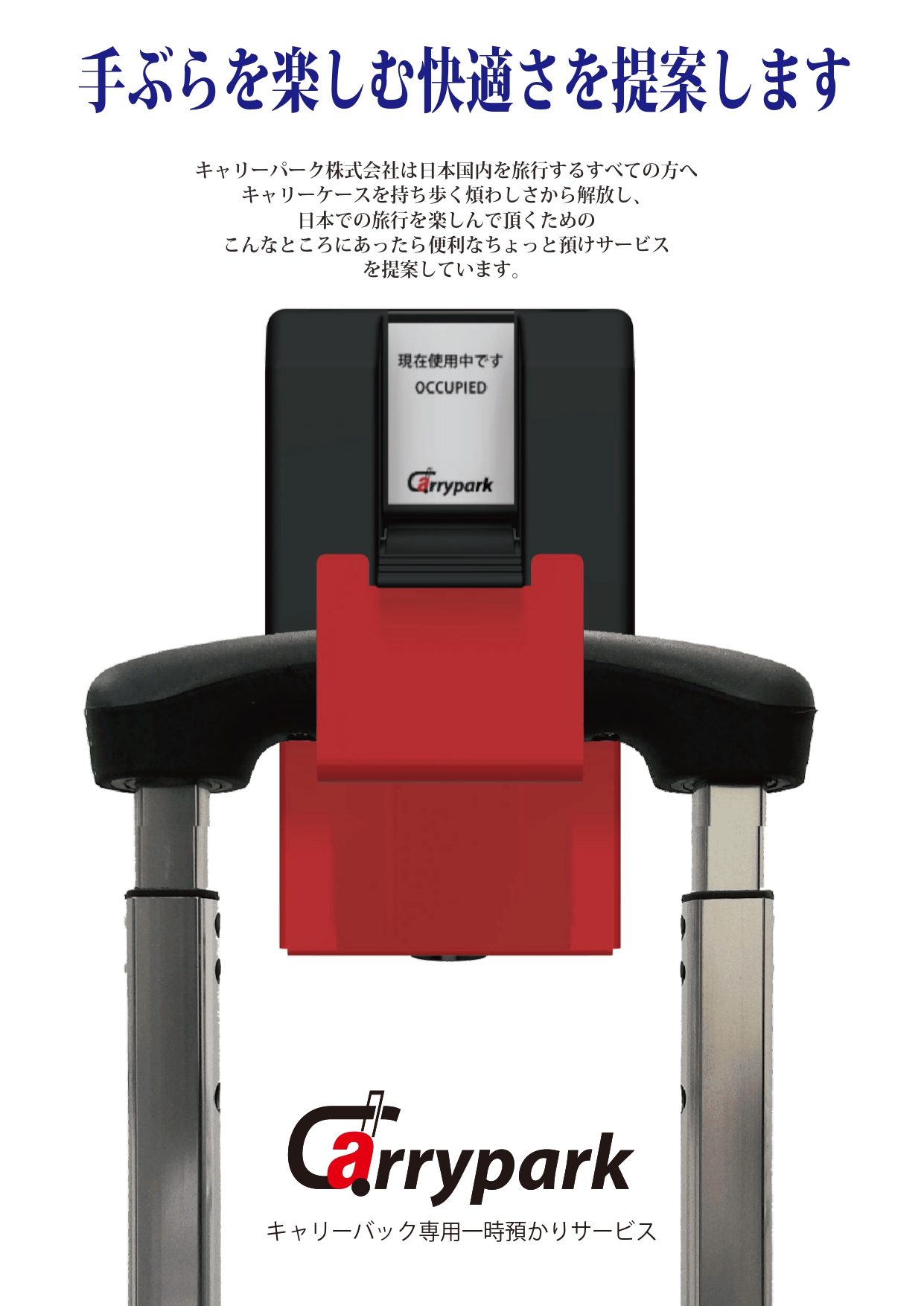 Carrypark
Carry Park CP-001 is a storage system with a dedicated mooring device for carry-on bags that can be unlocked using a smartphone, allowing for cashless payment and enjoy a hassle-free, hand-free experience. To use the system, first download the dedicated application to your smartphone. After the download is complete, launch the app and register as a user. The app allows users to keep track of installation locations (maps and photos), availability, opening hours and fees, so event visitors and tourists no longer have to wander in circles with their carry-on bags, looking for a locker. The app also makes it easy to check in and return bags, eliminating queues at baggage drop-off points and effectively combating new coronavirus infections.
As the app is multilingual, we believe it will be of great use in the future when there are no longer any restrictions on the entry of travellers from abroad.
Furthermore, super-sized carry-on bags (size LL) are difficult to deposit in lockers, and in many cases there are no lockers where super-sized carry-on bags can be checked in. With Carry Park CP-001, it does not matter what size carry-on bag you check in. The facility therefore meets the needs of inbound tourists from abroad who are sightseeing with large carry-on bags, visitors to events where goods are sold, etc.
In addition, as Carry Park CP-001 is charged by the hour, it is possible to deposit large carry-on bags for one or two hours. Normally, if you try to leave a large carry-on bag in a locker for a few hours, you will be charged a daily fee of around 1,000 yen, which is a waste if you only want to leave it for an hour or two, so you end up moving around with the carry-on bag without leaving it. With Carry Park CP-001, this is no longer the case. The Carry Park CP-001 temporary baggage storage device provided by the Company is designed to meet the needs of event visitors and travellers who have had problems with being able to leave their luggage at train stations because the lockers are full, event organisers and exhibitors who have had trouble operating smoothly because their luggage is in the way, restaurants and souvenir shops in tourist areas, and others. The service is designed to solve problems related to baggage storage for event organisers and exhibitors, restaurants and souvenir shops at tourist attractions, and others who are having trouble keeping their luggage out of the way.
Lockers are difficult to move once installed and require extensive installation work, but the Carry Park CP-001 is compact and can be moved freely. The movable trestle allows for a free choice of installation methods. It can also be moved and stored when not in use. This makes it possible to temporarily install the unit at event facilities or nearby shops at the time of an event.
The Carry Park CP-001's locking system is motorised to ensure stability, security and reliability. Communication is via Bluetooth for reliable security. The compact design allows for unobstructed installation. The system is also effective in terms of hygiene, as there are fewer surfaces to come into contact with, as is the case with box-type systems.
| | |
| --- | --- |
| Booth No | TS-044 |
| Area | Travel Solutions Exhibition |
| Main Business | DX Related Company/Organization |
| Official site | http://www.carrypark.com/ |
&nbspPhotos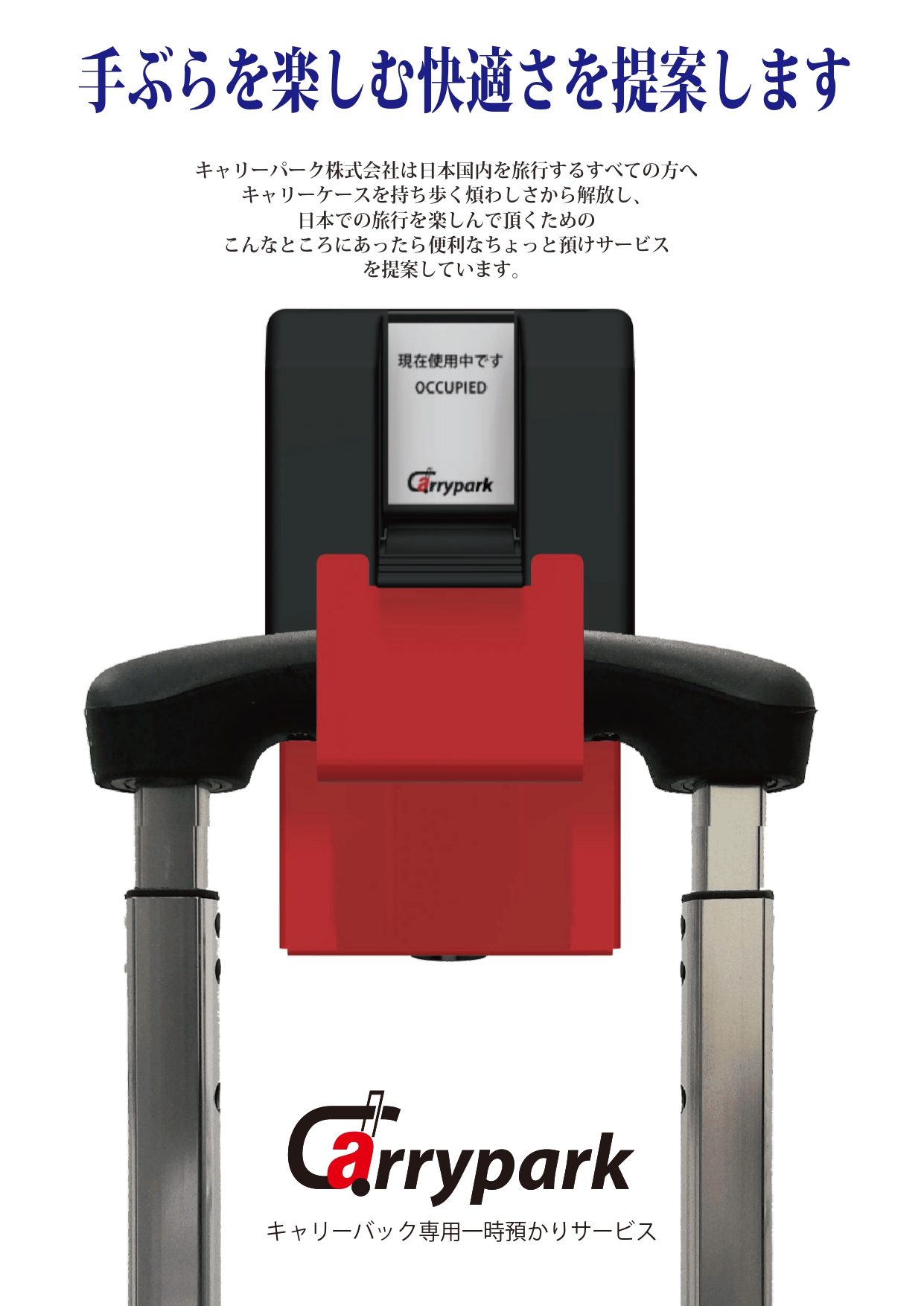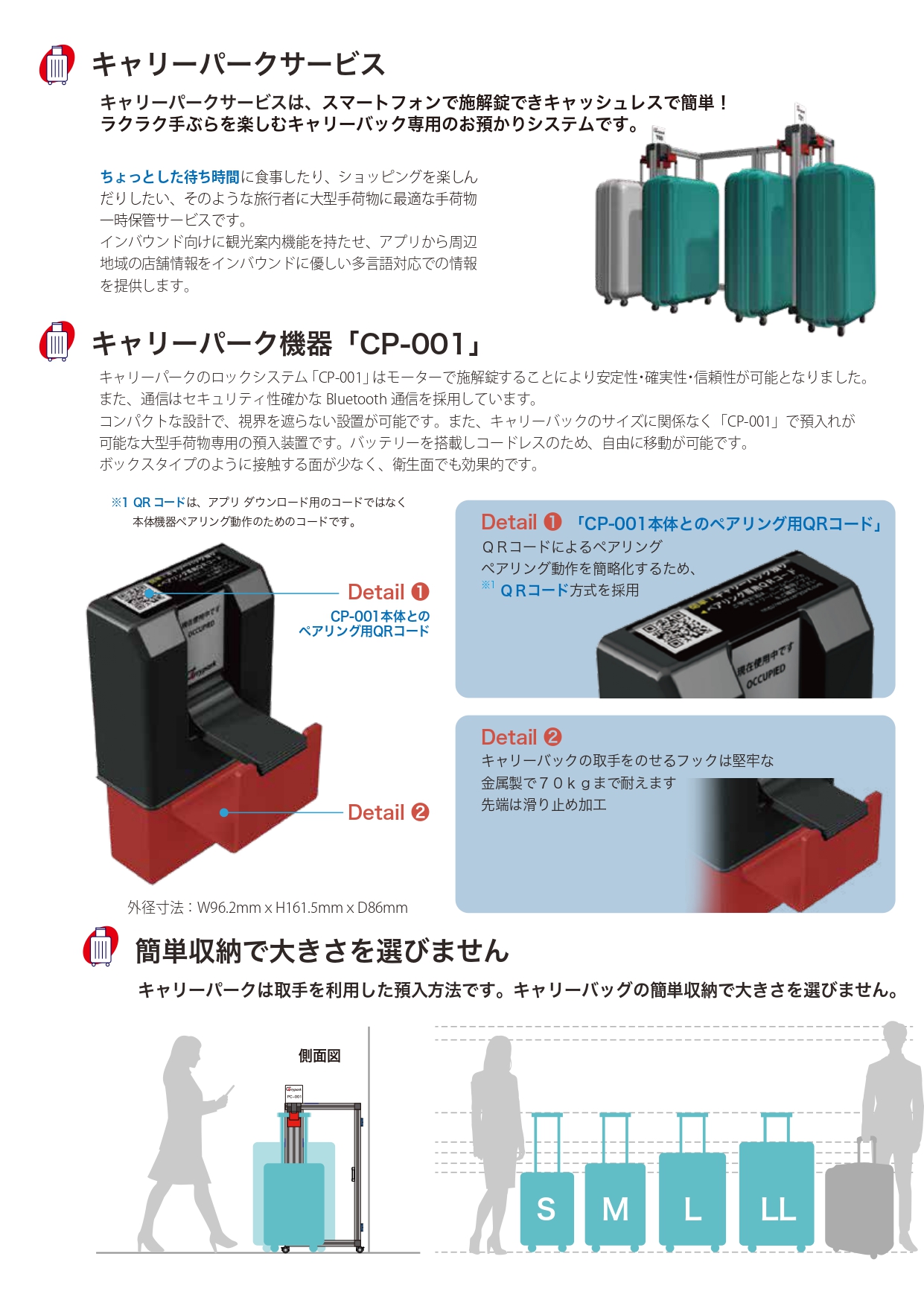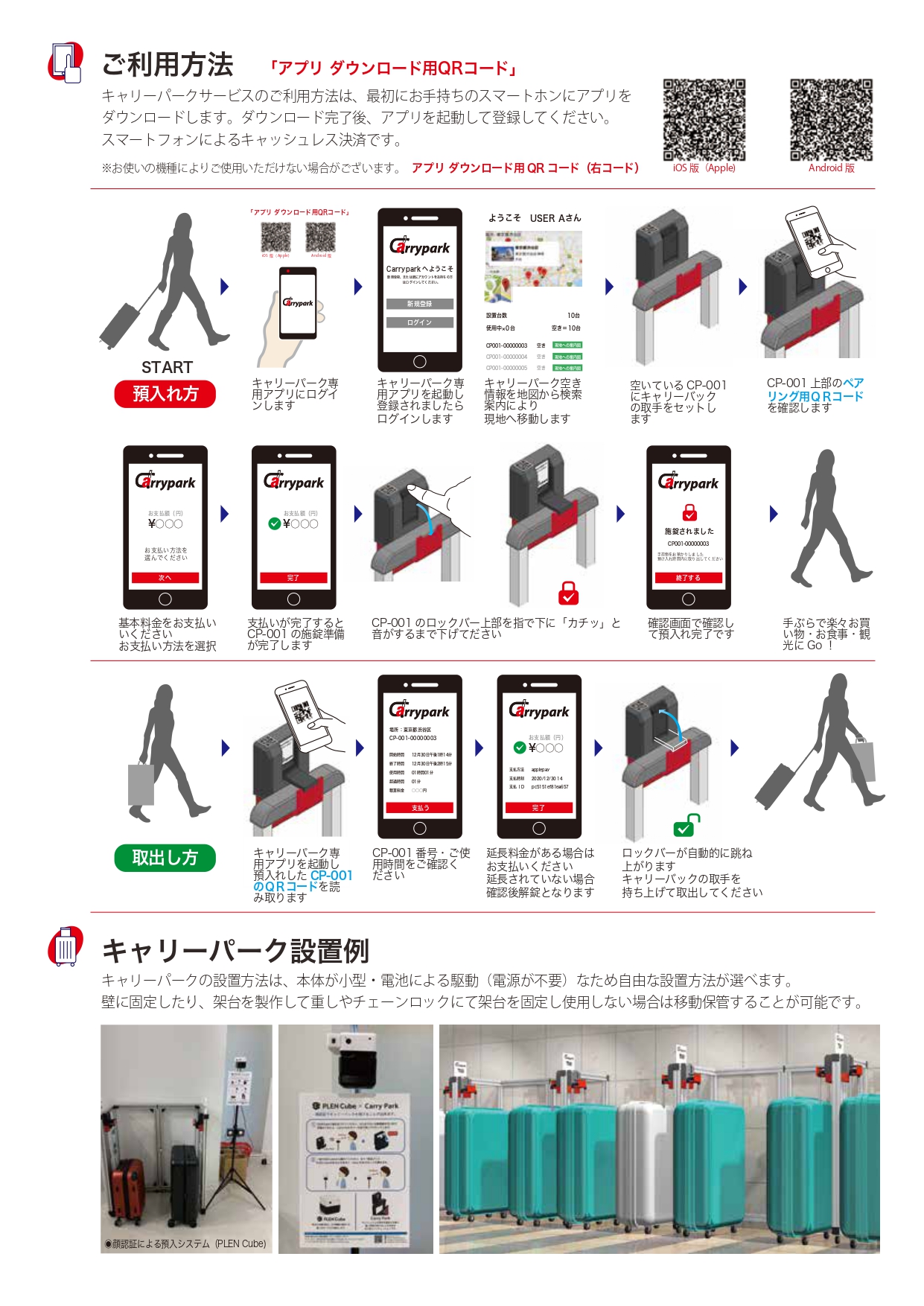 &nbspIn-booth event or Hands-on event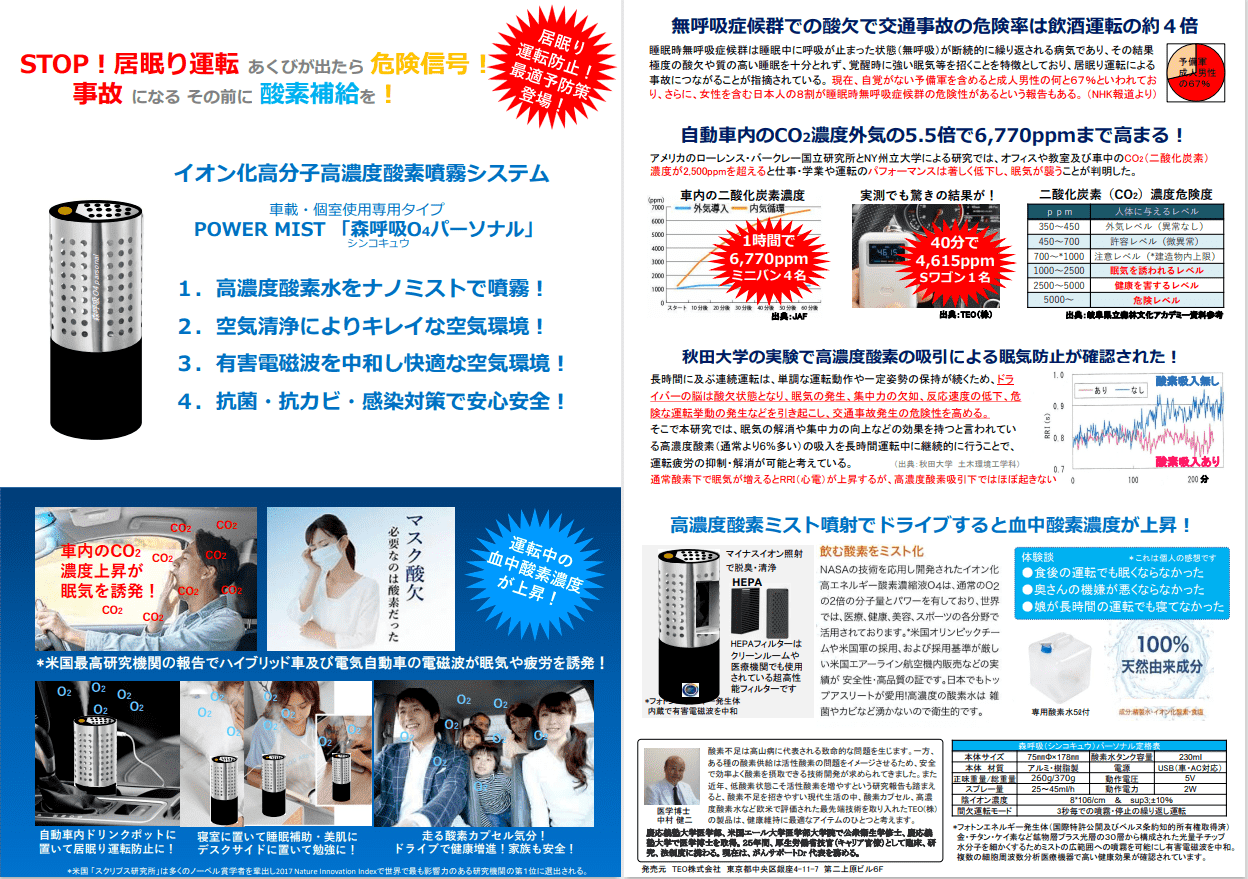 For in-vehicle and indoor use (excellent product name with air purification, highly concentrated oxygen mist, and health by neutralizing electromagnetic waves: Mori Breathing Personal, as shown in the exhibit information). This is the world's first product that heals the traveler's fatigue by providing oxygen-rich air in the car. For drivers, it prevents drowsiness caused by lack of oxygen due to the increase of carbon dioxide in the sealed space, leading to safer driving. The Power Mist 04, a handheld oxygen mist, will also be on display. This is also a product that can easily inhale 15,000 PPM of highly concentrated oxygen, 80 times the concentration in the blood, as dissolved oxygen. It is a product with many other benefits. This product is also effective in preventing coronary infection by relieving suffocation in situations where wearing a mask is commonplace and it is difficult to take in sufficient oxygen. This is a very good product for sports trips and mountain climbing-related trips. These products will allow visitors to feel the benefits of oxygen, and to experience the energy of oxygen easily at any time. Please feel free to stop by our booth.

Translated with www.DeepL.com/Translator (free version)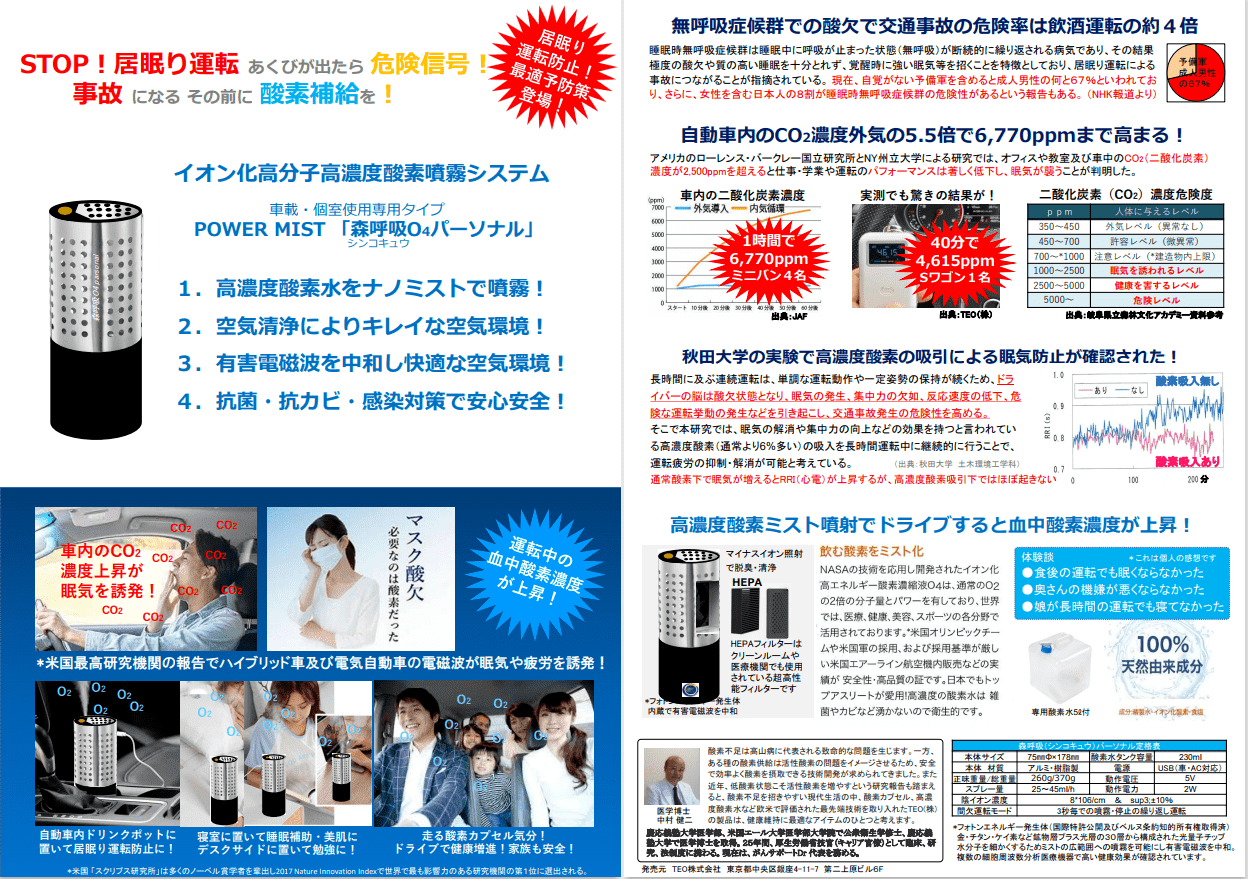 For in-vehicle and indoor use (excellent product name with air purification, highly concentrated oxygen mist, and health by neutralizing electromagnetic waves: Mori Breathing Personal, as shown in the exhibit information). This is the world's first product that heals the traveler's fatigue by providing oxygen-rich air in the car. For drivers, the increase in carbon dioxide in the sealed space prevents drowsiness caused by lack of oxygen, leading to safer driving. The Power Mist 04, a handy oxygen mist, will also be exhibited at this year's show. It can easily inhale 15,000 PPM of highly concentrated oxygen, 80 times the concentration in the blood, as dissolved oxygen, so it has an immediate effect in replenishing oxygen in case of oxygen deprivation. It is also a product with various other benefits. This product is also effective in preventing coronary infection by relieving suffocation in situations where wearing a mask is commonplace and it is difficult to take in sufficient oxygen. It is also a very good product as a travel item for sports trips and mountain climbing. We are sure that you will immediately feel the wonderful effects of highly concentrated oxygen, so please feel free to stop by our booth.

Translated with www.DeepL.com/Translator (free version)